This Month in Packaging... [March 2021]
Welcome to the March edition of Rocket Industrial's 'This Month in Packaging' blog series, a monthly wrap-up of packaging related content that catches our eye.
From Pac-Man packaging to edible film, here are five things that caught our attention in March.
---
Hello Fresh Expands Sustainability Initiatives
WHO: Hello Fresh
WHAT: Meal-kit company Hello Fresh strives to source packaging materials from local suppliers to reduce plastic and plan more efficient delivery routes to reduce their carbon emissions. While Hello Fresh desires to use as little packaging as possible for its products, the company needs to ensure its packaging upholds freshness, quality, and safety.
WHY IT MATTERS: With more consumers trying out or subscribing to meal delivery services, it is important to know the sustainability initiatives of these companies. In 2020, Hello Fresh became the first global carbon-neutral meal kit company and continues to expand its efforts in 2021 and beyond.
---
Pizza Hut Uses AR to Evoke "Newstalgia"
WHO: Pizza Hut
WHAT: Pizza Hut is using the concept of "Newstalgia" to tap into modern trends to provoke feelings of nostalgia by utilizing augmented reality on their pizza boxes. Limited edition boxes will feature QR codes that allow customers to play a version of the classic game Pac-Man and be entered to win a custom Pac-Man game cabinet.
WHY IT MATTERS: Packaging can evoke feeling for your product before the customer consumes it, so it is crucial for packaging to accurately depict desired feelings. By giving iconic elements a relevant update, Pizza Hut is creating a social dining experience for their customers that was lost during the pandemic.
---
Scientists Create Edible Food Films
WHO: Scientists from India & Russia
WHAT: An international group of scientists from India and Russia has created edible food films for food packaging. Consisting of natural ingredients, these films are water-soluble and dissolve by almost 90% in 24 hours.
WHY IT MATTERS: Safe for health and the environment, the food films are not only strong but prolong the life of the wrapped products. No special equipment is needed to produce these films, allowing them to be produced at polymer production plants.
---
Packaging Automation Deemed a Necessity
WHO: Packaging Machinery Manufacturers Institute
WHAT: As eCommerce continues to grow, packaging automation will need to increase to keep up with the competition. Being heavily reliant on manual labor is less productive, revealing weak links in the supply chain.
WHY IT MATTERS: 85% are still looking to expand automation in secondary packaging as this continuous and repetitive task can be easily automated. Automation in eCommerce leads to less time wasted in production changeovers and increased productivity throughout supply chains.
---
Consumer Perceptions Around Sustainability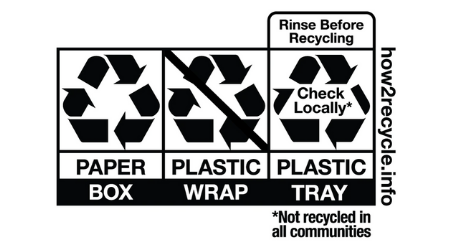 WHO: Shelton Group
WHAT: To improve brand perception, many companies are utilizing a 'How to Recycle' label to inform consumers which parts of the package are actually recyclable. These labels are often too small and hard to read, so Suzanne Shelton, president and CEO of Shelton Group, suggests bringing this label to the forefront of packaging.
WHY IT MATTERS: The way that consumers perceive a company has a lot to do with its plastic and recycling initiatives. With 45% of consumers having a more positive opinion of brands that use a limited amount or no plastics in their packaging, it is important for brands to clearly communicate how to properly dispose of the packaging.
---
Submit to the Monthly Packaging Wrap-Up
Do you have a packaging example, industry news article, or idea that your peers should see? Share it with us here! Our blog team will pick a few suggestions to mention in our This Month in Packaging blog series at the end of each month. If your suggestion is used, we will send you a Rocket hat!