This Month in Packaging... [January 2021]
Welcome to the first of Rocket Industrial's 'This Month in Packaging' blog series. We will be sharing a monthly wrap up of packaging related content that catches our eye.
We'd also appreciate your input. Let us know what you've noticed or heard. It could be your own packaging changes, an article from your favorite news source, or anything else you think your peers would find interesting. Fill out the form.
Here are five things that caught our attention this month.
---
Kraft Tests Recyclable Bowls
WHO: The Kraft Heinz Company
WHAT: Kraft Macaroni & Cheese is developing and testing its first-ever recyclable fiber-based microwave cup. This cup will eliminate plastic without sacrificing the taste or convenience of their current microwavable cups. Kraft plans to launch a new  Mac & Cheese Shapes variety later this year using the new cup and design.
WHY IT MATTERS: As consumers continue to focus on sustainable packaging options, companies need to adapt current processes to meet these demands. Like many other companies, the Kraft Heinz Company aims to make 100% recyclable, reusable, or compostable packaging by 2025.
---
The Box Smart Parcel Launches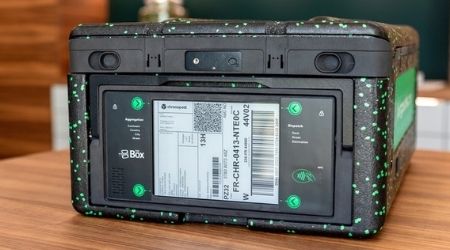 WHO: LivingPackets
WHAT: LivingPackets presented 'The Box' at this year's CES as a sustainable option for the e-commerce industry. This reusable shipping container can ship items up to 1,000 times before needing to be replaced and is packed with technology. The Box utilizes an e-ink address display to eliminate the need to print shipping labels, includes a tracking mechanism to be able to track products without relying on shipping services, and has an electronic lock that can only be unlocked by the recipient.
WHY IT MATTERS: E-commerce will continue to rise, increasing the number of materials used to ship products. In the long run, LivingPackets promises that purchasing and using this box is just as affordable as traditional corrugated packaging.
---
Pantone Reveals the Color of the Year for 2021
WHO: Pantone
WHAT: This year's Pantone Colors of the Year are Illuminating, a bright and cheerful yellow that represents strength and positivity, and Ultimate Gray, emblematic of solid and dependable elements. For more than 20 years, the Pantone Color of the Year has influenced purchasing decisions in a variety of industries, including fashion, home furnishings, and product packaging.
WHY IT MATTERS: Choosing a color pairing that symbolizes resilience and hope shows the importance of coming together and supporting one another. With the announcement of the Colors of the Year, we will begin to see these colors on labels, boxes, pouches, and other packaging materials to attract consumers through color.
---
2021 Survey Highlights Pros and Cons for Manufacturing this Year
WHO: BDO International
WHAT: A new study from BDO called The 2021 Manufacturing Outlook Survey assessed results from over 600 CFOs across various manufacturing companies. Questions were related to demand shifts, priorities, challenges, and new opportunities.
WHY IT MATTERS: For manufacturers, the road to recovery is more than a financial one. Many technologies such as remote monitoring and automation have seen their deployment accelerated as manufacturers navigate the complex new landscape. COVID-19 has also shortened the timeframe for the industry to get on board. According to the survey, at the top of the CFO agenda for 2021 is not cost cutting but investing in technology or infrastructure to adapt to the post-pandemic world.
---
Rocket Industrial Merges with Harder Corp/United Paper
WHO: Rocket Industrial
WHAT: Rocket Industrial has merged with Harder Corp (Madison, WI) and United Paper (Menasha, WI) to continue providing our customers with the best products and services to solve packaging and facility care challenges.
WHY IT MATTERS: Both privately held, independent family businesses, our shared commitment to providing outstanding service and developing and maintaining strong relationships will provide greater support to our customers. With sustainability programs and increased buying power, we have the products and resources to increase company efficiency while reducing total costs.
---
Submit to the Monthly Packaging Wrap Up
Do you have a packaging example, industry news article, or idea that your peers should see? Share it with us here! Our blog team will pick a few suggestions to mention in our This Month in Packaging blog series at the end of each month. If your suggestion is used, we will send you a Rocket hat!