This Month in Packaging... [November 2021]
Posted:
November 29, 2021
Welcome to the November edition of Rocket Industrial's 'This Month in Packaging' blog series, a monthly wrap-up of packaging related content that catches our eye.
From kerbside-recyclable insulation packaging to bottle picking robots, here are five things that caught our attention this month.
---
Kerbside-Recyclable Insulation Packaging
WHO: Amazon
WHAT: Amazon has introduced kerbside-recyclable insulation packaging for delivering grocery store products. The packaging's thermal effectiveness has been tested and used in 'secret shopper programs' for validation.
WHY IT MATTERS: The packaging will replace almost 735,000 pounds of plastic film a year and is a step towards Amazon's sustainability efforts and its commitment to becoming carbon-neutral across its business by 2040.
---
Boosting Plant Safety with Robots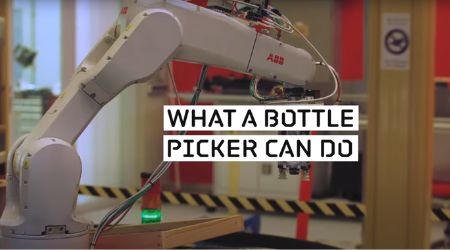 WHO: Heineken
WHAT: Heineken developed a robotic system that automatically picks up fallen bottles from conveyor belts to make its bottling line safer for workers while enhancing job satisfaction. This system has vision and control like humans to react in real-time to keep up with the company's high-speed operations, which traditional robots cannot do.
WHY IT MATTERS: As brands integrate automation into their packaging lines, safety and adaptation to changing work environments are the top factors considered for implementation. Automation is becoming easier to integrate, allowing more companies to utilize robots as a reliable solution to their problems.
---
eCommerce Packaging for Grocery
WHO: Crisp & Your Avojoy
WHAT: Crisp, an online supermarket, and Your Avojoy, an avocado producer, have created a sustainable packaging option for avocados. The recyclable pack looks similar to an egg carton and contains three avocados at different stages of ripeness.
WHY IT MATTERS: As eCommerce shapes packaging innovation, there are more opportunities for brands and retailers to offer packaging solutions for this channel. This pack protects the avocados during delivery to customers.
---
Technology Evaluates Packaging Redesign Success
WHO: Vizit
WHAT: Vizit's cutting-edge Visual Brand Performance Platform analyzed updated packaging from Morton Salt, Midol, and Coca-Cola to determine if the redesigns are more successful than the original. Vizit's platform provides a score that measures how target audiences view imagery, allowing brands to quantify changes made to product packaging and determine the changes to be made.
WHY IT MATTERS: When thinking about redesigning product packaging, especially for recognizable brands, it is important to maintain brand recognition for existing customers while appealing to new audiences.
---
Designing with Robotic Automation in Mind
WHO: Fuseneo
WHAT: More and more companies are turning to robotic automation to combat labor shortages, especially in manufacturing and fulfillment environments. From using automation to place items on pallets to using drones to make deliveries, package shape, weight, graphics, and materials must be considered to ensure proper handling.
WHY IT MATTERS: The way that robots are handling products is changing drastically, so it is important to consider how packaging affects different touchpoints throughout automation.
---
Submit to the Monthly Packaging Wrap-Up
Do you have a packaging example, industry news article, or idea that your peers should see? Share it with us here! Our blog team will pick a few suggestions to mention in our This Month in Packaging blog series at the end of each month. If your suggestion is used, we will send you a Rocket hat!