This Month in Packaging... [August 2021]
Welcome to the August edition of Rocket Industrial's 'This Month in Packaging' blog series, a monthly wrap-up of packaging related content that catches our eye.
From pastry packing robots to more accessible cereal boxes, here are five things that caught our attention this month.
---
Eco-conscious Beauty Brands Choose Sustainable Packaging
WHO: Innerbark
WHAT: High-end beauty brand, Innerbark, paired their natural skincare product with compostable jars and labels to provide a biodegradable, yet functional and aesthetically impressive, product. The brand selected packaging made from FSC-certified wood chips from industrial waste streams and plant-based materials.
WHY IT MATTERS: The beauty and personal care industry create large amounts of plastic waste. As environmental awareness increases, consumers trust brands to take action towards a more sustainable future without compromising quality.
---
Slippery Sided Lotion Bottle Reduces Carbon Footprint
WHO: LiquiGlide
WHAT: A new packaging line, EveryDrop by LiquiGlide, added a nontoxic layer of lubricant to the interior walls of its lotion bottles to eliminate friction and ensure each drop of the product slides out. This design eliminates product waste and simplifies recycling – or reuse – as the bottle can be easily cleaned out.
WHY IT MATTERS: An estimated 17% to 25% of lotion in a typical bottle is wasted. Recycling is nearly impossible when a product is left behind, requiring a significant amount of water. LiquiGlide presents an affordable, clean, and environmentally conscious solution to packaging waste.
---
Robots Package Pastries at 160 Cakes Per Minute
WHO: J. Skinner Baking Co.
WHAT: A customized equipment solution was developed to automate and simplify the packaging of J. Skinner's famous handmade Danish. The solution transports the baking sheets from the oven to an eventual washing unit, while decorating, packaging, and inspecting the cakes with an integrated bypass system.
WHY IT MATTERS: This automation has enhanced production by offering time- and cost-efficient processes to improve high product quality. Automated quality control standards and system adaptability have addressed packaging limitations within this growing company.
---
Shopping Made Accessible for Visual Impaired Individuals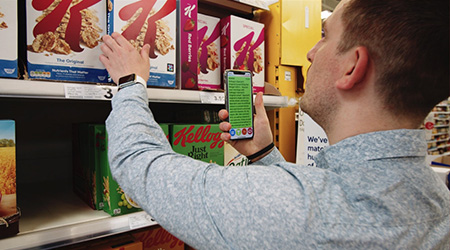 WHO: Kellogg's UK
WHAT: A new technology will be permanently added to all Kellogg's UK cereal boxes to make them accessible to those who are blind or partially sighted. Smartphones directed towards the box will detect the code and playback important labeling and allergen information to the user.
WHY IT MATTERS: Innovative advancements allow big brands to be a catalyst for change towards a more inclusive and accessible shopping experience for all consumers.
---
Dynamic Market Conditions Disrupt Raw Materials
WHO: Rocket Industrial
WHAT: Industries across the globe continue to experience supply shortages and surging demands at an unprecedented level. Additionally, soaring transportation costs, workforce absences, and extended lead times have interfered with product pricing and availability.
WHY IT MATTERS: Despite supply chain disruptions, Rocket's commitment to Package with Less cost, waste, and labor remains constant. Rocket has taken strategic steps to mitigate rising costs, inform our customers, and identify innovative solutions to provide the best experience during this time.
---
Submit to the Monthly Packaging Wrap-Up
Do you have a packaging example, industry news article, or idea that your peers should see? Share it with us here! Our blog team will pick a few suggestions to mention in our This Month in Packaging blog series at the end of each month. If your suggestion is used, we will send you a Rocket hat!